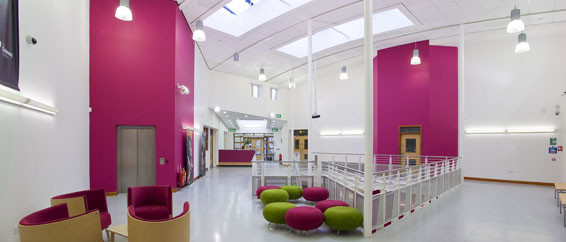 Exterior design is appreciated mainly for its contribution to the surrounding environment. The interior spaces of a building are where we have the greatest opportunity to influence and please the users.
We look at the way people move through a space to perform their daily tasks. Our interior plans work with the natural flow, and facilitate the functions that take place within the building. The room shapes, acoustics, lighting, and tactile response of the interiors are fundamental to the whole design concept. Materials and furnishings are selected with great care — they help to generate the sensory experience for people at work, at their studies, or at play.
Our qualified interior design specialists work closely with our architectural and building services teams. Together they produce holistic design themes that work beautifully for either new-build projects or refurbishments. At every stage we are keen to consult with stakeholders and end users. We seek their opinion on samples of furniture, lighting, finishes, fabrics, colours, and accessories. Our inclusive approach means that we consider the special needs of users from the outset.
We undertake the following services on large integrated design projects and individual commissions:
Comprehensive, interactive end-user consultations
Space planning and CAD furniture layout
Cost-effective procurement of fixtures, fittings, and equipment
Planning and management for office moves
Design for people with special needs.
We have a particular expertise at interior design for education. Our designers have worked on commissions for Academy schools and projects within Building Schools for the Future programmes. They produce interiors that help to create an atmosphere that is conducive to learning.
We also work extensively with the private sector, designing for offices, sports facilities, hotels, and restaurants.